This week we welcome Nate to the CBFC Artist Spotlight!
Q. Where are you from?
A. I was born and raised in Dayton, Ohio. It's not the most glamorous, but you have to love where you're from, right?
Q. How long have you been drawing?
A. Honestly, I've been drawing for as long as I can remember and just never gave it up. It always seemed like a fun thing to do and I always imagined I would have a career as an artist. I've been selling art at conventions for about 9 years now released my first comic last year.
Q. What materials do prefer to do your art with?
A. These days, most of my finished work is done on my Wacom Cintiq with a mix of Clip Studio and Photoshop. I still love working things out with a pencil on paper though.
Q. Character you love to draw?
A. I love drawing superheroes like Spider-Man and Captain America where I can try to put my spin on the classic designs. I also really love drawing original characters and trying to figure out their designs.
Q. What Character would you want to draw that you haven't drawn yet?
A. One that got suggested a lot but I never got around to was Killmonger from Black Panther. I've also wanted to try my hand at some more anime characters to see how they translate into my art style.
Q. What artist inspires you the most and why?
A. I get really inspired by artists who do their own thing and still make it big. Mike Mignola with Hellboy, Bryan Lee O'Malley with Scott Pilgrim, etc. I've also been heavily influenced by Skottie Young, Sean "Cheeks" Galloway, Bruce Timm, and Thomas Perkins.
Q. What was your first published work?
A. My first published work is a comic called The Wyld. It's a comic series I'm working on with my brother, Lee Xopher, about a world of animals who have returned to the law of the jungle after their magical society fell, and a small group trying to reunite the Animal Kingdom. The first chapter came out in Spring 2018. The second chapter came out a few months ago and I'm currently working on chapter three.
Q. Which artist would you love to do a collaboration piece with?
A. How great would it be to work with Jack Kirby and learn from the King himself? Since that's not possible, I'd love to work with any of the artists I mentioned earlier. Who knows what the future holds. Right now I'm happy to be collaborating with Lee on The Wyld.
Big thanks to Nate for taking the time to answer a few of our questions! Be sure to give him a follow!
Don't forget to check back next week for our next Artist Spotlight! If you're an artist and are looking to be featured on our page please hit me up here. I'd love to hear from you.
-Chris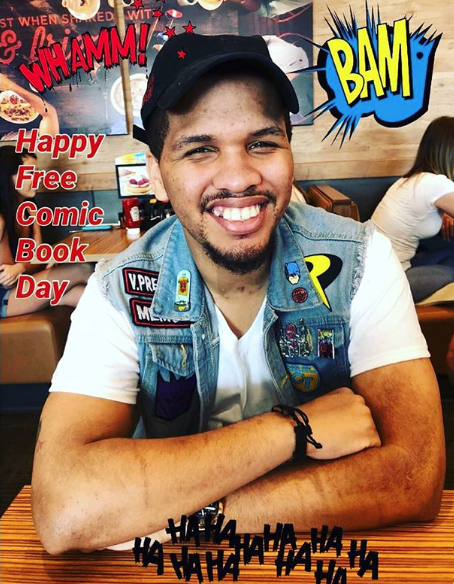 East Coast Member, Comic Book Fiend Club
Personal quest, search every dollarbin in Philly!