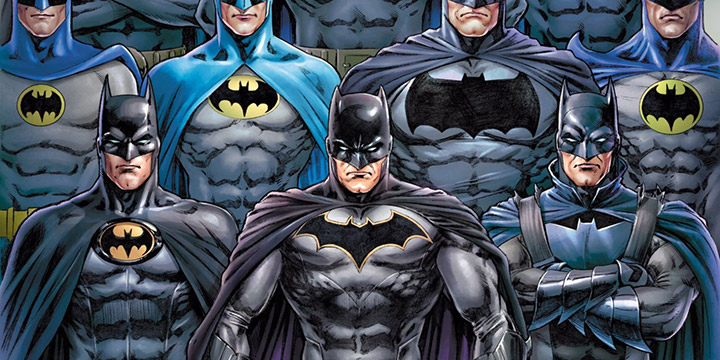 80 years ago, March 30th 1939, Detective Comics #27 hit newsstands and one of the all-time greatest, if not the greatest, comic book characters debuted. Batman. This past Wednesday, Detective Comics, the title that literally defines DC, released its 1000th issue! No ads, no filler, just 96 pages dedicated to celebrating the Bat. An all-star line-up of Batman's greatest writers and artists put on display with 11 stories that would make Bob Kane and Bill Finger proud.
The amount of talent in this book is amazing. Who better to start off this string of stories than Scott Synder and Greg Capullo? They really set the tone of the book with "Batman's Longest Case" as the majority of the stories focus on Batman's detective work. It's a fun story that even shows promise for future work with a reveal of a certain group of characters. From there on its hit after hit.
The writer/artist team ups are great. The second short sees Kevin Smith and Jim Lee craft a clever story that strikes to the origin of the Bat. Then Paul Dini and Dustin Nguyen loop together some of Batman's best villains with the story of Knute Brody.

Warren Ellis and Becky Cloonan follow and show Batman's genius in how he gives the bad guys a false sense of security by letting them think they're getting away while chasing them into a building he's already set up with traps.
After that Denny O'Neil and Steve Epting show a familiar story from one of Batman's loved one's perspective of the life he's lead and the way he fights crime.
Neal Adams and Christopher Priest follow up with look back at how Batman training with and then leaving the League of Shadows effected other members.
The Future
Brian Michael Bendis and Alex Maleev shift gears and makes Penguin the focus of their story set it the future where Oswald and Bruce are elderly and in wheelchairs. Cobblepot confronts Wayne saying he and possibly other villains knew Batman's secret identity a long time ago and hint at why they kept it to themselves. Another future tale follows as Geoff Johns and Kelly Jones show Batman at the end of his career with an interesting take on the hero. Him and Catwoman fight crime together as a family with Damien, now grown, and their daughter… Yes Batman and Catwoman daughter here. The really interesting part though is the message from the son of Batman's greatest foe at the end.
Family
James Tynion IV and Alvaro Martinez-Bueno go back to when Dick Grayson was first taken in with an interesting philosophical look into Robin and other sidekicks. It shows how Batman, who was created by the dark, helped craft Robin in the light and positivity. 
Before we get into the last story Tom King with Tony S Daniel and Joelle Jones showcase the Bat-family in a get together Batman has called. We watch as they all try to figure out what the reason of meeting is. They're detectives. They should be able to figure it out right? This leads into some great pin-ups and splash pages by Mikel Janin, Jason Fabok, Brad Anderson, Amanda Conner and Paul Mounts.
Arkham Knight
The finale is by Peter Tomisi and Doug Manke of course. It's the true canon story that'll pick up in the next issue and it's a hell of a cliffhanger. We've all heard the Arkham Knight was coming. That's no surprise nor spoiler. "Medieval" takes you on a look at Batman from the many different perspectives of the Arkham Knight and how he's set to give Gotham the true hero he thinks they deserve. The mystery character has a truly twisted mind that may be Batman's biggest threat yet. We'll have to wait and see but 1001 is going to flip Batman and Gotham on its head I believe.
Must Read
All these are just snippets of each short story. I give you a brief look at each but reading these is where the true joy is. This is a must have for any Bat fan. There's truly something for everyone. All the writers and creators do an A+ job with these short tales and you'll be able to take something different from each. I can't think of a better way to celebrate the last 80 years of Batman and Detective Comics. These writers and artist have put together something special. Plus, you have a wide array of covers to pick from. You have Jim Lee, Scott Williams and Alex Sinclair's regular cover/midnight release plus 9 decades of variants by Steve Rude, Bruce Timm, Micheal Cho, Jim Steranko, Bernie Wrightson, Frank Miller, Tim Sale, Jock and Greg Capullo. 

With top notch artist, writers and ideas throughout, Detective Comics 1000 easily gets 5 of 5 💀's. It's well worth the $10 price tag and a great read to celebrate the 80 year reign of the Dark Knight.
-Greg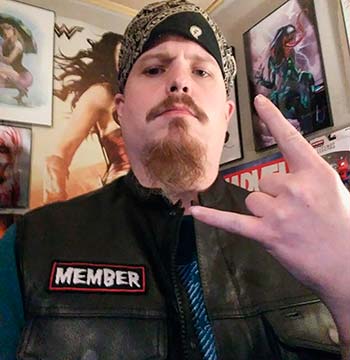 South Chapter Member, Comic Book Fiend Club
Hip Hop, Comic Geek & Collector, Proud Father of 5