>>>>Spotify Playlist<<<<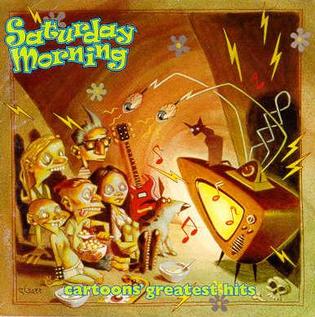 So, check this out… in '95 MCA Records decided to release a tribute album of songs from the most popular Saturday morning cartoons from the 60's and 70's. Shows like; Scooby-Doo, Underdog, Fat Albert, Popeye The Sailor Man and of course, Spider-Man!


All the songs were performed by Alternative and Punk rock artists and the Ramones recorded their cover of the Original Spider-Man theme song. The Cartoons Greatest Hits album was released on LP, Cassette and CD and hits the charts at #67 on the BIllboard 200 in '95.
I wonder if the Ramons were given the opportunity to choose that song or if the record label told them that was the song they were going to cover. Whatever the case may be, they really took the song to heart, it was heavily requested during live shows, countless fan art was created and they even made it on The Simpsons!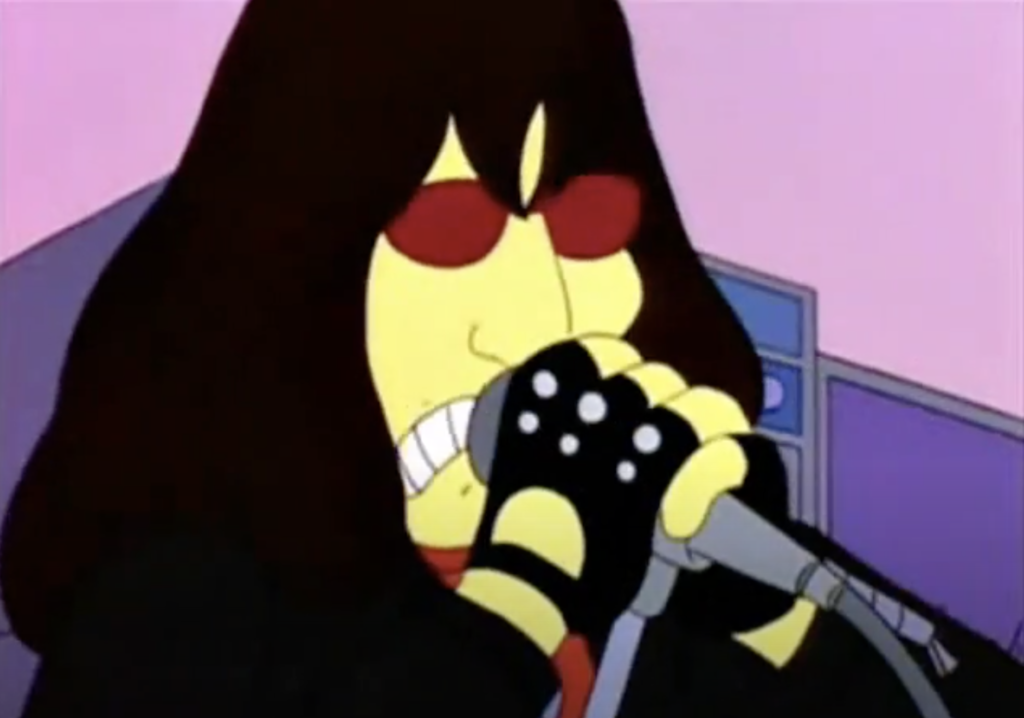 I think it's safe to say The Ramones were already "comic fiends" having songs with references to comic characters like "The Crusher" and their unofficial mascot, so-to-speak being Zippy the Pinhead, based on an underground comic by Print Mint.
Now we can't forget a shout-out to the original creators of the The Spider-Man Theme song which was composed by Paul Francis Webster and J. Robert Harris in 1967 and recorded at the RCA Studio in Toronto where the Cartoon was also produced. #TheMoreYouKnow 😉 -Chris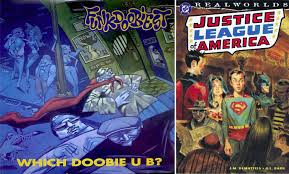 Kickin this week off with The Funkiest Rap Super Heroes aka Funkdoobiest. A HipHop group from Los Angeles consisting of 2 MC's and a DJ (Son Doobie, Tomahawk Funk and DJ Ralph The Funky Mexican).
Funkdoobiest dropped their debut album Which Doobie U B in 1993 which had some hit singles, Bow wow wow, The Funkiest and Wopbabalubop Ft Breal from Cypress Hill. Two of these three tracks include a comic book reference, even some DC comic references! Which Doobie U B also included work from Glenn Barr who drew the album cover!
Glen Barr has done multiple album covers for different artists and different genres, he's also done some comic books including the DC Comics graphic novel Realworlds: Justice League of America.
In the tracks from their freshman album, Son Doobie talks about being The Rap Super Hero and mentions this multiple times. Two years later in their sophomore album, Brothas Doobie, they drop a song titled "Superheros" which has multiple name drops! The whole song is actually comic related but you'll have to give it a listen to see who he talks about!
Hope you enjoy my picks from this week!
Peace – yoimdrewCBFC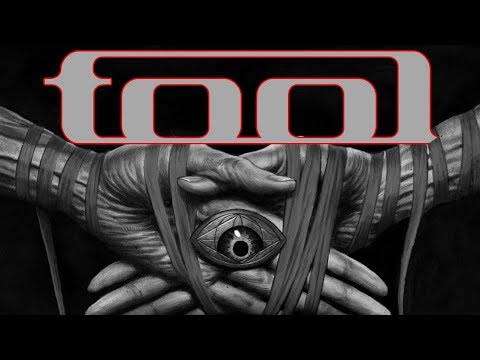 This week I chose to focus on rock bands with members who are heavily into comic books. So let's start with one of my favorite bands ever and TOOL. Specifically focusing on guitarist Adam Jones.
Adam Jones has a long history in special effects in Hollywood and even directed a lot of TOOL'S infamous videos. He is also a major comic book collector and can be seen visiting shops along their tours. If lucky you can also meet him at major comic cons like I was fortunate to do.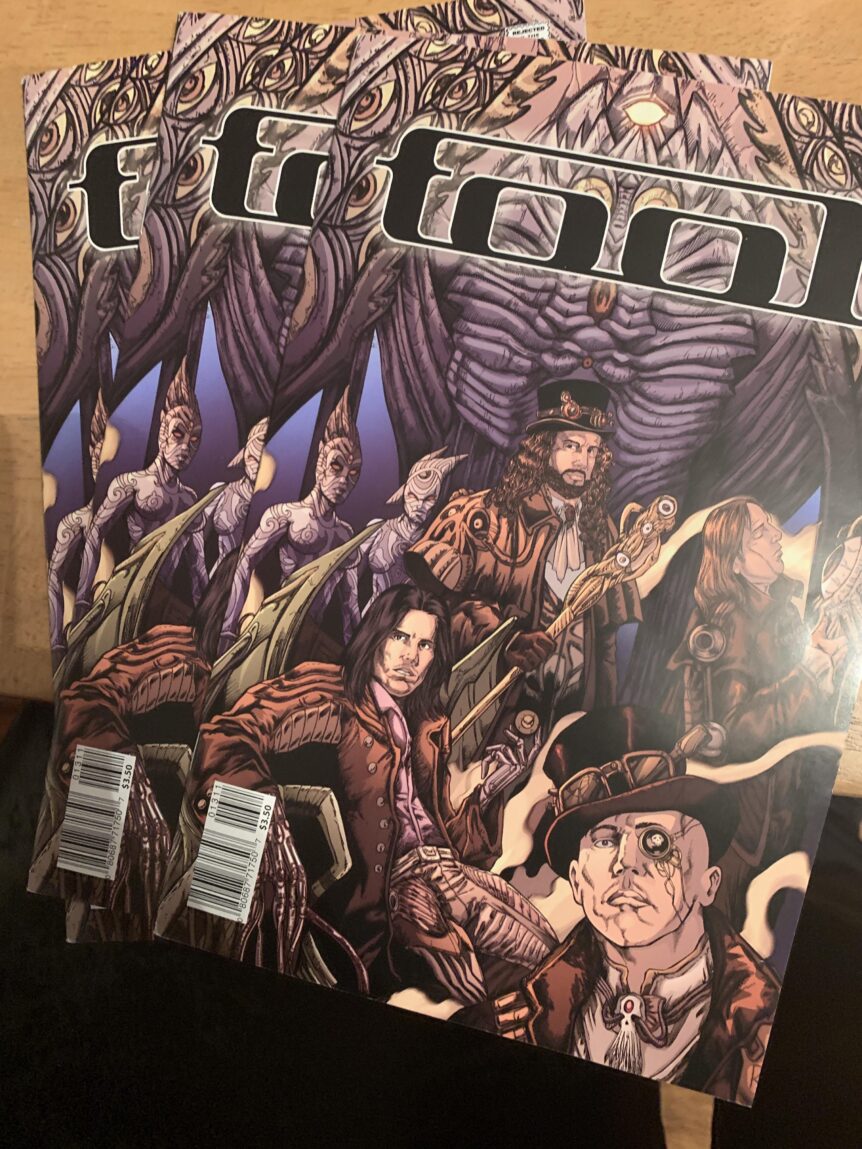 I was walking around Wondercon and happened to notice him shopping at a booth. I waited for him to finish and man was he buying some major books. As he was walking away I stopped him and ask if he would take a picture. He was such a nice guy and we talked for a minute and I told him I was a huge fan and had either just seen them or was going to later that year (I don't remember time wise). He mentioned to me that he was in town "secretly" making their next album but took a break for the con. So not to brag but I knew Fear Inoculum was coming before most did lol.
Adam also wrote a comic book of his own, a crossover called X-Files/30 Days of Night. If you're not familiar with TOOL which everyone should be make sure to check out these videos below. Both were directed by Adam Jones and are two of my favorite songs from them.
For my last entry it wouldn't be right to be on this topic and not mention SOAD. John Dolmayan drummer for SOAD is also well known for his venture into the comic book industry. A major collector himself turned owner with one of the most well known comic book stores in America Torpedo Comics. They have two shops in Las Vegas and now Orange, CA. Be sure to check out the shop on their IG @torpedocomics and look at the vault specifically. So with that said I chose one of their most famous songs Chop Suey. I've always loved the tempo changes featured in this song and it's definitely one of the best songs to jam along with.
That's it for me this week I hope you like the theme and the songs. I was also fortunate enough to check out both of these bands at Aftershock Festival and crossed them off my bucket list. Damn I really miss concerts and festivals let's get back to that life lol.
Check out the full list of songs from our FIENDTAPES members and make sure to FOLLOW our Spotify account.
@friendlyfacedviking
Irony of dying on your birthday – senses fail
Reinventing your exit – underoath
@monstara33
Freddie Gibbs – Palmolive Ft. Pusha T
Eminem – Infinite
Nas – Play on playa
Method Man – I'll be there for you Ft. Mary J Blige
@yoimdrewcbfc
Funkdoobiest – The Funkiest
Funkdoobiest – Who's The Doobiest
Funkdoobiest – Superheros
@thecomicarchive
Ramones – Spiderman
Ramones – The Crusher
Misfits – Vampira (Walk Among Us 1982)
@thecomicraider
TOOL-Schism
TOOL-Stinkfist
System of a Down-Chop Suey
@palmettopunisher
Royce Da 5′ 9″ ft KXNG CROOKED – Tricked
Kid Cudi ft Kanye West & Common – Make Her Say(Poker Face)
@cbfcsenorheadbang
Superman's Song – Crash Test Dummies
I am The Law – Anthrax
We're always on the lookout for comic related music. Please feel free to drop a comment if you have suggestions on songs we should review. Looking for this weeks hot tracks? Check out our Spotify account here.<<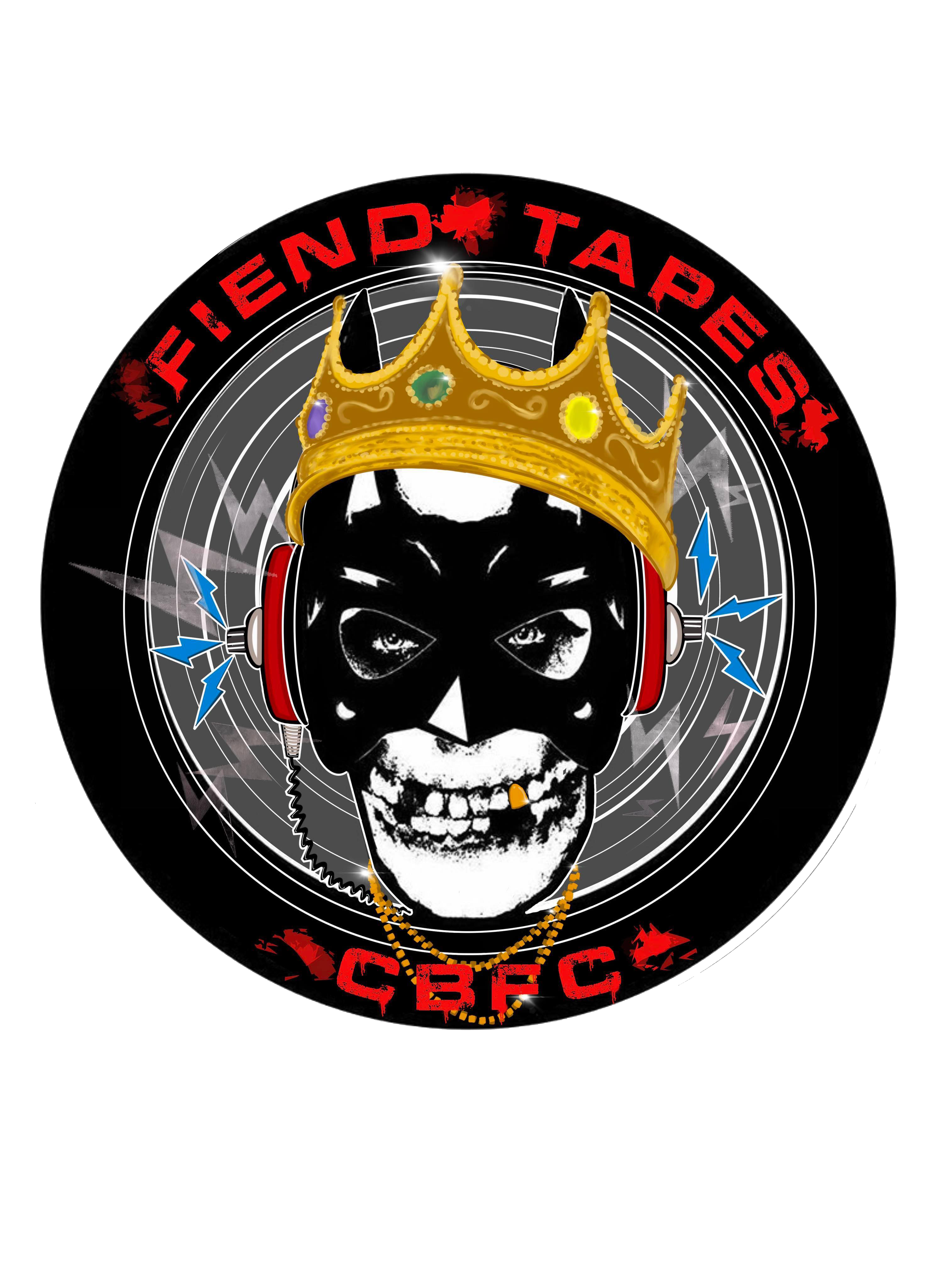 Just a group of fiends in search of epic music.
Spotify Playlist Updated WEEKLY!