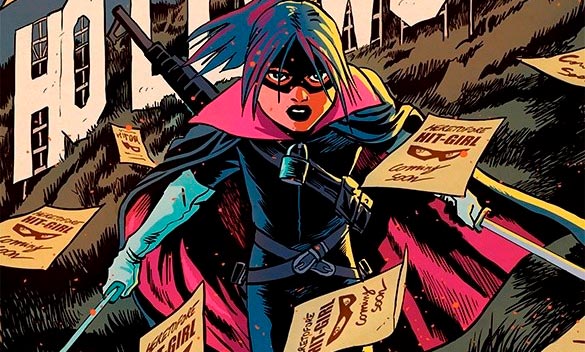 Hit-Girl has been a great ride since being picked up by Image. Mindy is on a world tour, taking out crime and delivering brutal justice. We've seen her in Columbia, Canada, Rome, and now she sets her sights on Hollywood. With each arch we not only get a new location but a new writer and artist. Hit Girl Season 2 #1 finds Kevin Smith in the drivers seat and he pulls a Silent Bob… Well, a Silent Mindy. There's no dialogue, except for one speech bubble on last page, but the story still delivers. It's kind of like one well-choreographed long action scene and it pays off.
Jay and Silent Bob Strikes Back
Mindy, violent as ever, yet nonchalantly stops a school shooting and stumbles across a biography of her self in the library. She's already upset there's a book on her violent vigilante exploits but then she sees "Soon to be a major motion picture" and jumps on the Internet where "The Scoop" confirms the movie and sets off to Hollywood to stop this. Hmm… Anybody remember the plot to Jay and Silent Bob Strike Back? If not, this is it.
Kevin Smith has been criticized for using heavy dialog as a crutch so this is a nice change up and proof he knows what makes a story work in sequential art. Even if you've never picked up Hit-Girl, Smith shows you enough that you completely understand what's going on. If you have been reading the series I think you'll enjoy the change up even more.
The Creative Team
Pernille Ørum art was a great team up with Smiths writing. The animation veteran's skill set is on full display. Her fluid line work mixed with Sunny Gho's colors has a cartoon feel that I actually felt soften the violence which helped the school shooting be less cringe worthy.
I'm really looking forward to see where Smith takes this. Surely it won't be as simple as just stopping a movie. What kind of crime are we going to see Mindy combat? Sleezy manager's that take advantage of young actresses? Big movie company corruption? We'll have to wait on issue #2 to see, but we know Hit-Girl won't think twice about painting tinsel town red if need be.
All in all it's a great start and I give Hit-Girl Season Two #1, 4 outta 5 skulls.
-Greg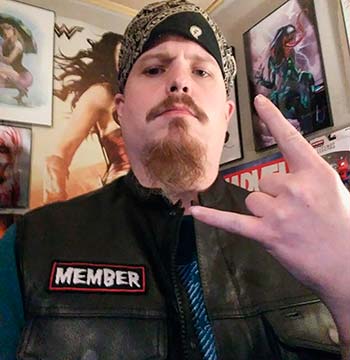 South Chapter Member, Comic Book Fiend Club
Hip Hop, Comic Geek & Collector, Proud Father of 5